Faces de Angola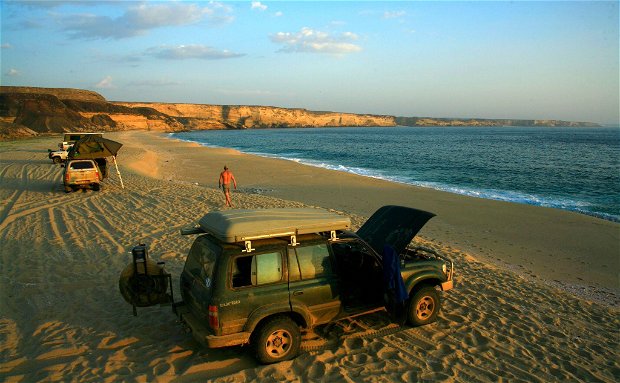 The country is a giant jigsaw puzzle with different climates, landscapes, cultures and colours. You will drive over high mountains, across vast open plains, see wide white beaches and be engulfed by thick tropical rainforests. Angola has it all, as if each of its eighteen provinces is a different country. Lubango has a mild temperate climate while Luanda is hot and dry.
Much of the landscape is dramatic, with plunging waterfalls, bizarre rock formations and deep gorges. Leba Mountain in the Huila Province rises out of the Tundavala gorge to give stunning views of the vast Namib Desert. It is not often that you will encounter huge baobab forests, mighty rivers, the legacy of Portuguese culture, impressive waterfalls and secluded little beaches along the Atlantic, all on one tour.
New roads were and are built but deteriorate in a couple of years. The road conditions are horrific and traffic near big centres are some of the worst that you will encounter in Africa. So, to experience and see the beauty of Angola you will spend long days on the road and need to pack the world's patience.
The route will take us through several of Angola's southern and central provinces – with the turning point just north of Luanda. Currently, the only route of its kind offered as a guided self-drive trip. As there are no formal campsites on this route we will set-up a bush camp each night and will provide a camp shower.
The campfire will crackle each night and while everybody gathers around it you will enjoy our delicious dinners and recap the adventures of the day.
Don't miss out. Angola is a true adventure not to be missed. Tick this one off on your bucket list and join us on the next tour.
MORE INFORMATION AVAILABLE ON REQUEST
Please note that this tour is an adventure and therefore this itinerary only serves as an indication of the route. It will be adjusted according to local conditions and therefore crossing the border back to Namibia at Ruacana can be a day earlier or a day later.
Prices for concession fees, taxes, park fees and fuel may be changed without prior notice. This is beyond our control and any increase levied will be for the traveller's account.
Itinerary
Pre-Departure
RUNDU- NAMIBIA
Plan your itinerary to arrive no later than 17h00 at Kaisosi River Lodge. Attend a briefing from your guide and meet your fellow travellers.
Accommodation options are limited in Rundu; therefore, we suggest Kaisosi River Lodge. (Accommodation for this night is not included in your tour package. Please contact your consultant to assist with either camping or lodge accommodation at Kaisosi River Lodge.)
** Please ensure that you have filled up on fuel, wood and water BEFORE arriving at Kaisosi River Lodge.
O/N Camping: Either camping or lodge accommodation – for your own account
Included: Dinner
DAY 1:
BORDER CROSSING – KUBANGO VIEW
We will have an early morning departure for Katwitwi border post as crossing the border can be time-consuming. After crossing the border, the route leads northwards along the western banks of the Kubango River. It is a challenging drive with potholes galore! You will have some fun with an interesting drive through which you will get to know the ways of the locals better, e.g. you will be stunned by the weight locals can carry on their heads with no assistance … it is just amazing.
O/N Camping: Wild camping in the Kubango area
Included: Dinner
The second part of the road towards Menonque can still be challenging, but after a while we reach a tarred road and the driving should be smooth towards Menonque. We make our way to the Mumbwe area after a quick drive through Menonque where you are able to see the remnants of the buildings that were affected by the war. Interestingly enough people still live in these buildings.
O/N Camping: Wild camping in the Mumbwe area
Included: Breakfast and dinner
From Mumbwe to Huambo the roads cater for a comfortable drive. Huambo is the second largest city in Angola and was formally known as Nova Lisboa. From here we will start to encounter more traffic on the road and for this reason we will by-pass the town. On the way, you should also be able to see white and red markers on trees which indicates the possibility of minefields beyond the trees. These are the remainders that demining teams left when cleaning the area. There are still demining teams working on removing some of the last mines that can still be found in parts of Angola.
O/N Camping: Wild camping in the Waku Kongo area
Included: Breakfast and dinner
From Waku Kongo we travel to a traditional deserted Coffee Farm. We will travel through old coffee plantations. Coffee is one of Angola's most important agricultural products. Prior to independence in 1975, coffee production in Angola reached about 230 000 tons per year, making Angola the fourth largest coffee-producing nation in the world. You will have the chance of buying some local coffee, subject to availability.
O/N Camping: Wild camping on a coffee farm
Included: Breakfast and dinner
Today we leave the coffee plantations behind to travel to Pedras Negras. Here you will find a series of mysterious rock formations called the Black Rocks. Many of these rock formations are shaped in the form of animals, standing high above the flat African Savanna and we will hike the short distance up a hill to have a beautiful view of the surroundings. On the way to the camp, we will stop to show you footprints imprinted in the stones. This supports the myth of a princess that bathed and when soldiers approached her, she fled.
O/N Camping: Wild camping at Pedras Negras
Included: Breakfast and dinner
We continue our journey to the north towards Calandula. The Calandula Falls is an awe-inspiring sight and said to be Africa's third largest waterfall. The 105-meter-high waterfall is located 85 km from the provincial capital of Malange. The waterfall is a spectacular site and take one's breath away when looking at the mighty force with which water plunges down to form mist giving the area a mystical feel. From here we travel west towards the coast.

O/N Camping: Wild camping close to the Calandula Falls
Included: Breakfast and dinner
A full day's drive lies ahead of us but will be filled with interesting things such as the visit to the botanical garden. Ready to go? Depart Calandula heading for Luanda, the capital of Angola. We will use the ring road to by-pass the city. Our campsite for the night will be in the vicinity of Barra do Dande just north of Luanda … the most northern turning point of our route. Set up camp and relax after a long day on the road and some serious focusing while driving the ring road and getting use to Angolan city traffic.
O/N Camping: Wild camping at Barra Do Dande
Included: Breakfast and dinner
DAY 8:
BARRA DO DANDE – DRIVING SOUTH
At Barra do Dande you will find a shipwreck graveyard. There are two myths regarding the reason for the shipwrecks, an Angolan version and one by the Portuguese. The Angolan version is that the ships were not seaworthy and had to be left where they were. The Portuguese version is that they stranded the ships when they were forced to leave them behind once they were forced to leave the country. Spend some time taking photographs and then we head to Luanda. There will be an opportunity to fill up on supplies. We then leave the city behind, drive about 115 km and then set up camp for the night.
O/N Camping: Wild camping
Included: Breakfast and dinner
Working our way south via Sumbe, crossing the Keve River, we reach the Kumbira Forest. Kumbira Forest is under government protection and serves as an educational example to the locals of how to live in harmony with the forest and not to destroy it. This is a must see. We will set up camp high on top of a mountain, promising to deliver quite a sight.
O/N Camping: Wild camping in the Seles area
Included: Breakfast and dinner
From Seles we travel to Lobito which dates back to 1905 and owe its existence to the bay of the same name, having been chosen as the sea terminus of the Benguela Railway to the far interior. Lobito is a very modern part of Angola with accommodation, many ships and oil rigs at the harbour. The peninsula with its nightlife and variety of small restaurants makes it ideal for a stopover. Here you will get a chance to relax on the beach and enjoy the atmosphere.
O/N Camping: Beach camping at Lobito
Included: Breakfast – dinner is for your own account and will be enjoyed at the restaurant on the beach
Leaving the boundaries of the city life, we head deeper into the Namib Desert. There will be an opportunity for the angler to wet their fishing lines if the tide allows. This area is bare, but still carries beauty and natural wonders as you will soon discover at our camp, Klofie. Here you will be able to enter a cave-like structure through a narrow tunnel while still being able to see the sky.
O/N Camping: Beach camping at Klofie
Included: Breakfast and dinner
Today we travel from Klofie in a southerly direction to Namibe. The city was founded in 1842 and until 1985 had the name of Mocamedes. Namibe has the third largest port in Angola, after Luanda and Lobito. It is also the terminus of the Namibe Railway. The town has a gigantic market where you can buy nearly anything and we will have the opportunity to spend some time shopping here.
O/N Camping: Wild camping at Shambasana
Included: Breakfast and dinner
Our journey to the border begins when we head to Lubango, driving via the spectacular Leba Pass with its awesome hairpin bends and waterfalls. The road rises from the coastal plain to an altitude of over 6 000 feet in just a few kilometres. It is believed that the pass was designed by a Portuguese lady who passed away on the day that the construction of the road was completed.
Humpata is 20 km from Lubango. It has a strong South African connection as it was here where the Thirstland Trekkers settled in 1881. The Monumento do Christo Rei keeps a watchful eye over the city of Lubango. The white marble statue is 30 meters high and situated on a hill near the city. The statue is a smaller version of the one in Rio de Janeiro and Lisbon.
O/N Camping: Wild camping at Tundavala
Included: Breakfast and dinner
Today we turn south towards the province of Cunene at a more leisurely pace. Crossing the Cunene you will be back in Namibia and it is time to say sad farewells. We will cross the border late afternoon and we suggest that you stay either at Ruacana Eha Lodge or in an area that is within 2 hours drive as crossing back into Namibia can be time-consuming.
Included: Breakfast
END OF TOUR