Namib100 Hike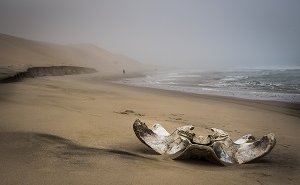 Hiking into the forbidden land!
The Namib100 is not your average run-of-the-mill hike, but rather in a bucket-list league of its own with the likes of Kilimanjaro, the Grand Canyon and the Camino de Santiago.
Join us on a fully-catered, fully-supported, 5-day slackpacking hike into the oldest desert on earth - the Namib. On this exclusive 100-kilometre hike you will traverse an area that answers to names like Forbidden Land, Sperrgebiet and Skeleton Coast, where numerous shipwrecks stand witness to the power of nature over man.
This is a Live the Journey 'Exclusive' hike, which means that as a concession holder, we have exclusive rights to host a limited number of hikes in the Namib Desert concession. The 100 km five-day hike originates a few kilometres outside of Walvis Bay and ends at the wreck of the famous Eduard Bohlen, which was stranded in 1909.

Distance: 100 km.
Duration: 5 Days (not including pre-/ post days)
Group size: Groups are limited to only 24 hikers.
Rating: Level 6 and 7 – although it is not a difficult hike, endurance and stamina is required.
Rates from 01 November 2023 – 31 October 2024:
SADC Residents - R 26 100 per person (R 21 600 hike cost + concession fee R 4 500)
International Passport Holders - R 26 800 per person (R 21 600 hike cost + concession fee R 5 200)
*Prices for concession fees, taxes, park fees and fuel may be changed without prior notice. This is beyond our control and any increase levied will be passed to you.
All rates are quoted in South African Rand and subject to increase.
IS A BOOKING REQUIREMENT THAT YOU MUST SUBMIT PROOF OF TRAVEL INSURANCE WHEN MAKING YOUR FIRST PAYMENT; YOU WILL NOT BE ABLE TO JOIN THE TOUR WITHOUT TRAVEL INSURANCE.
Included: Three meals per day during the hike, limited beer and wine will be available each evening. Drinking water (5 litres per person per day) and water for showering (5 litres per person per day). Transport from Walvis Bay to the starting point, transport from the Eduard Bohlen to Walvis Bay, all in convoy-style with 4x4 vehicles. Support team and 4x4 vehicle convoy. Shower and chemical toilet at each overnight campsite. Concession fees*, park fees, vehicle park fees and community levy.
Excluded: Pre and post travel arrangements (travel by road, flights, accommodation). Travel insurance – to be taken out within 24 hours of first payment made towards the tour. Travel insurance must include cover for extreme adventure and must include emergency medical evacuation cover by air. Snacks and drinks that you would like to take on the hike. Camping gear and bedding (can be hired at extra cost). Communal dinner and all drinks at info session on day 0. Visa fees (if applicable).
NOTE:
Groups are limited to only 24 hikers.
Special terms & conditions apply to any tour booked on an exclusive private basis.
Prices for concession fees, taxes, park fees and fuel may be changed without prior notice. This is beyond our control and any increase levied will be for the traveller's account.
Your luggage will be transported during the trip. Please make sure to pack light and use 'soft' baggage. You will only have to hike with your daypack.
*Concession fees are paid to the Topnaars. The Topnaar community, proud custodians of the Namib Desert, received concession rights from the Ministry of Environment and Tourism. The concession rights allows the Topnaar community to control, protect and conserve the desert, the !Nara plants, Topnaar graves, historical homesteads as well as the fauna and flora of this area. In Live the Journey, the Topnaars found a worthy partner, a company that honours and understands the heart of the Namib Desert and all it holds.
Please also visit namib100hike.com for more information.
Gallery
Itinerary and Details
DAY 0:
ARRIVAL WALVIS BAY
It is recommended that you arrive in Walvis Bay at least one day prior to the departure of the hike. A communal dinner and briefing session will take place at Lagoon Chalets on day 0 at 19:00. (Dinner for your own account.)
DAY 1:
DISTANCE 22 - 23 KM, ELEVATION 411 M
The support vehicles will meet the group at Lagoon Chalets. The transfer from Lagoon Chalets to the starting point (50 kms) will be in special converted 4x4 vehicles. Today you will experience Sandwich Harbour's huge and abundant bird and sea life. Sandwich Harbour was classified as a Ramsar wetland of international importance in 1995.
DAY 2:
DISTANCE 23 - 24 KM, ELEVATION 72 M
Today you will pass huge seal colonies on your way to the Langewand where the dunes drop directly into the ocean. It is only possible to walk the Langewand at low tide as you will be trapped between the perpendicular dunes and mighty Atlantic during high tide.
DAY 3:
DISTANCE 20 -21 KM, ELEVATION 258 M
Today you will encounter the wreck of the Shawnee that stranded in 1976. The skeleton of this wreck will remind you that this coastline is the book of remembrance. You will also turn inland to walk the dunes. Standing on top of a dune will give you a different perspective, emphasizing how insignificant we are in the bigger picture.
DAY 4:
DISTANCE 19 - 20 KM, ELEVATION 95 M
Today you will see a completely different face of the Namib. You move down from the dunes to a grit plain that will surprise you with its micro life - from the dancing white lady spider to the smallest of succulents. Your camp will be near one of the old mining settlements where wind-washed buildings are engulfed by Namib sand.
DAY 5:
DISTANCE 13 - 14 KM, ELEVATION 113 M
Today you will turn towards the sea, crossing pink saltpans and ancient ocean floors littered with shells, occasionally catching sight of the wreck of the Eduard Bohlen in the distance, beckoning you to come closer.  The Bohlen stranded on 5 September 1909, and it is also at the Bohlen where the hike ends.  Enjoy this accomplishment as you end the hike with a glass of bubbly in your hand.  After that we will start the drive back to Walvis Bay where our services conclude upon arrival.
Board the 4x4 vehicles.  This journey back to Walvis Bay will cement the hike in your mind as the drive will be along the route you have hiked the last few of days.  The arrival time in Walvis Bay will be approximately around 18:00.  Accommodation for this night will be for your own account.  We can however assist with bookings.  Our team will drop you off at your preferred overnight stop.
DAY 6:
DEPARTURE WALVIS BAY
Transfers to the Walvis Bay Airport will be provided on this day.